A high-end biotech business
Thinking of a traditional farm may conjure images of bars with slanted roofs that form a triangle structure, wood-clambered architecture, and the scent of raw materials permeating the space, in and out. Design studio GinnerupArkitekter thought of adapting the renovated look of the once stereotypical imagery of a farm for Sejet Plant Breeding's entrance. From hooded roofs and wooden exterior, the design team transformed the traditional farm of Sejet Plant Breeding in Denmark into a high-end biotech business, a mission that company has always strived to embody.
The large glass surface and round skylights connecting the new entrance to the existing building make the whole look modern and transparent, eliminating the difference between the inside and the outside. It elicits a graceful complement to the nature surrounding this biotechnology company. The interior boasts the use of natural stones for selected parts of the floor, countertops and walls, all in warm gray shades that echo the pavement of the courtyard.

images by Ulrik Tofte Olesen
Natural materials
In addition to natural stone, the designers chose oak as an important material for combining new and existing ones. The old farmhouse has been converted into a modern lifeline of the company as the design team injected meeting facilities that respond to the needs of the employees. The design also turns to slatted walls and wooden panels in oak wood to keep the parquet floor moving vertically. Careful selection of high quality natural materials appropriates the company's brand.
GinnerupArkitekter designed all the fixtures and fittings, and the green frame tables with surfaces in green linoleum. The color green reappears in the textured paint on the walls, and the natural materials are underlined through the choice of furniture, with lamps from Louis Poulsen, curtains from Kvadrat, Wegner furniture, and water armature and handles in brass designed by Arne Jacobsen for d line.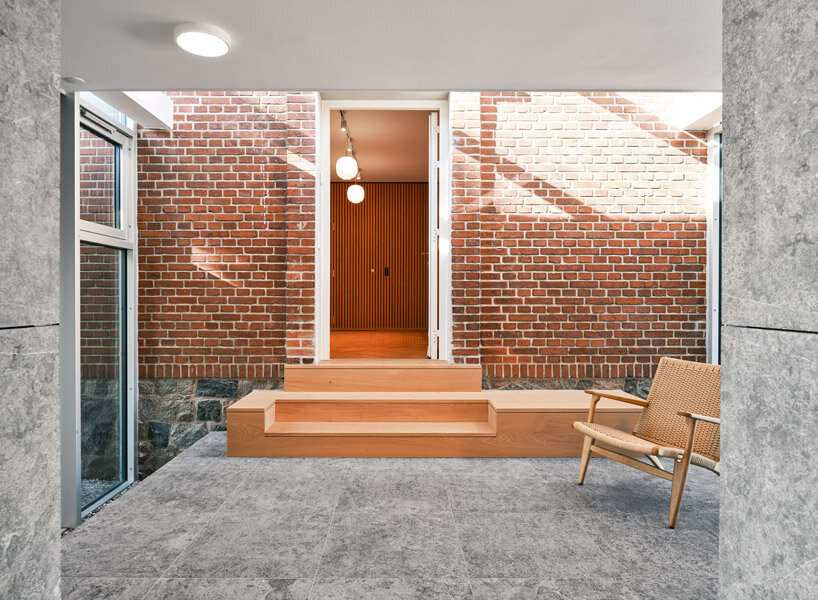 natural stone, oak wood, and textured paint transform this traditional farm in denmark
The new entrance
'Experimental farms are considered by many to be a bit old-fashioned,' says Birger Eriksen, the CEO of Sejet Plant Breeding. 'The new entrance building makes it clear that our company is not just an experimental farm. It is a modern biotech-based business with state-of-the-art laboratories, where we use the latest technologies and develop new genetics at an international level.'
Martin Schack, an architect and partner at GinnerupArkitekter, explains: 'With great respect for the classic courtyard motif, we have designed a straightforward building that carefully binds together the older buildings by only touching them with glass. At the same time, we let the motif of the courtyard flow through the new building.''
The stately brick buildings from 1947 have now been gifted a modern entrance portal that respects history and its surrounding buildings, complementing their robust expression with a simple, light construction that conveys the company's modern ambitions.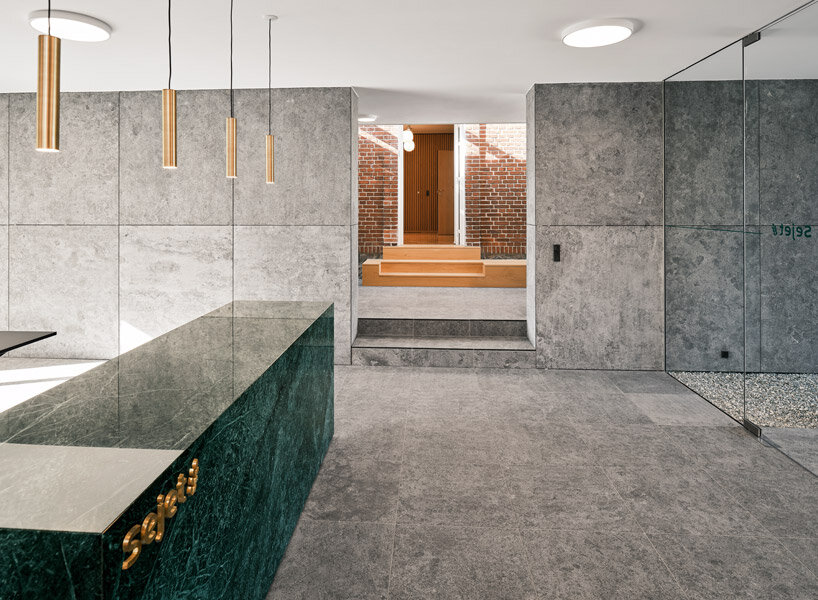 the new entrance is adjoined to the company's existing structures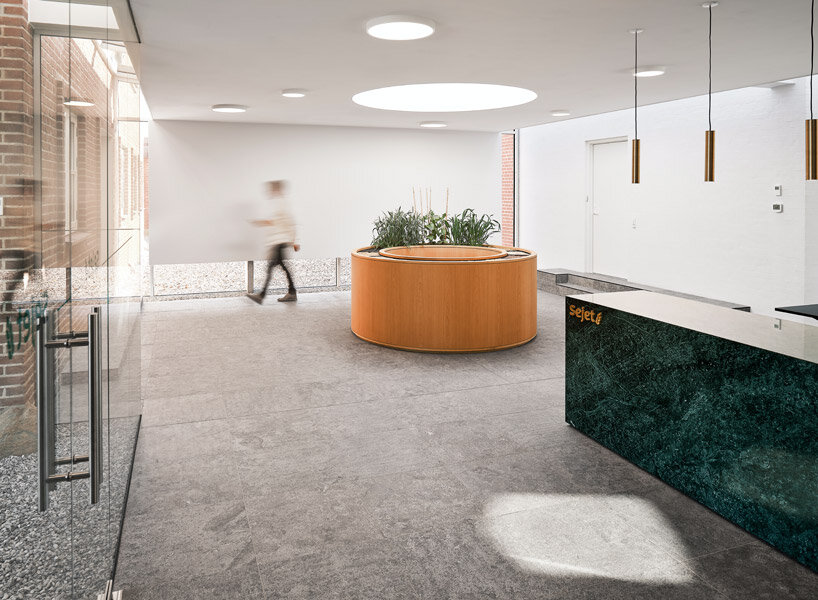 upon entrance, the touch of green is already visible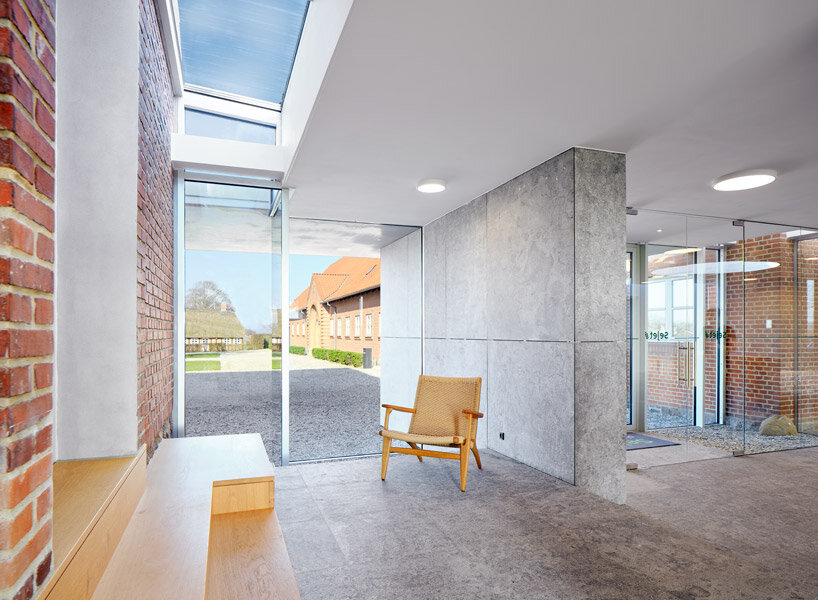 natural light floods into the interior through the skylight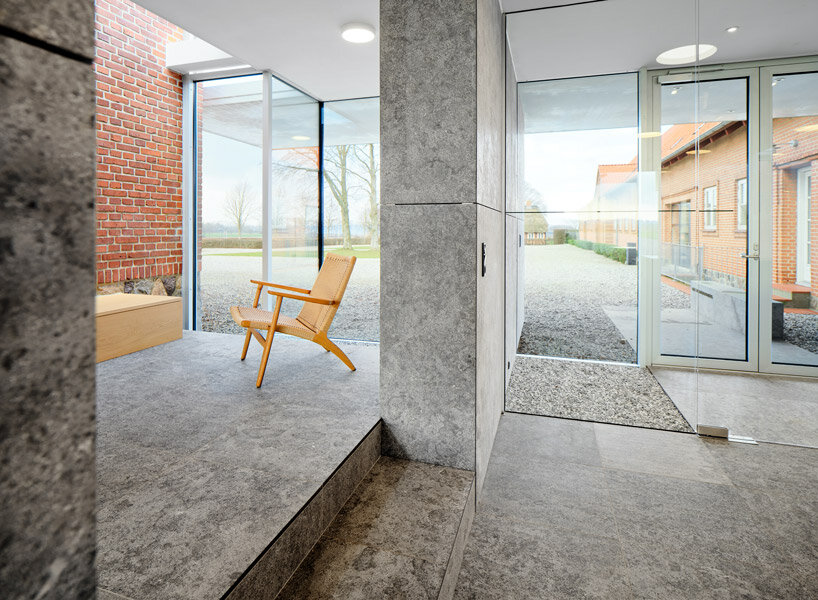 gray-toned, textured paint tones down the ambiance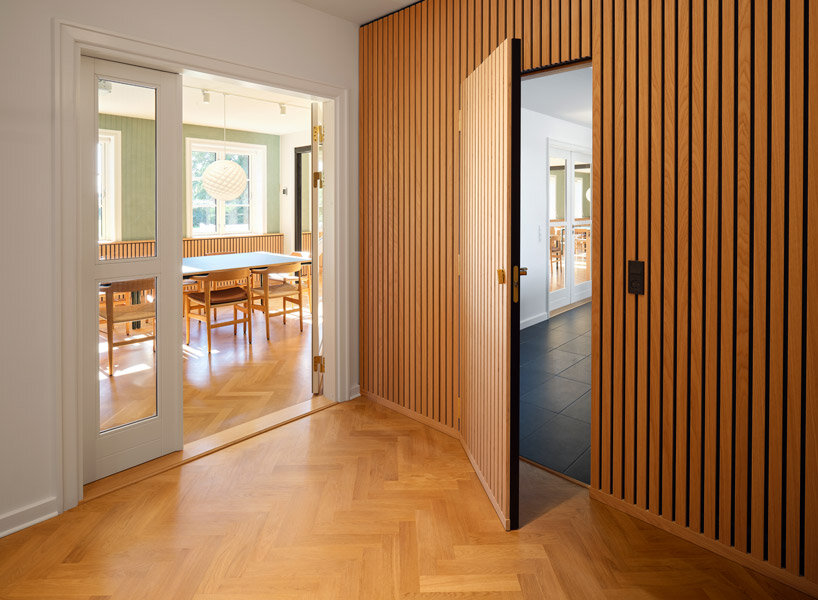 natural materials permeating the space