reinterpreting the controversial legacy of Le Corbusier 
Le Corbusier's famed Cité Radieuse in Marseille hosts an extraordinary art and design exhibition dubbed 'Héritages'. On view from now until 2 July, the show co-occurs with the 70th anniversary of the architectural masterpiece designed by the father of modern architecture in 1952. For this exhibition, Galerie Philia has invited eight renowned designers — Pietro Franceschini, Rick Owens, and Arno Declerq, among others — to create new pieces that reflect and reinterpret Le Corbusier's modernist theories and principles.
all images © Maison Mouton Noir_courtesy of Galerie Philia_courtesy of Le Corbusier Foundation, © FLC A.D.A.G.P, Paris, 2022, unless stated otherwise
enlivening a dialogue of resonances and dissonances
Le Corbusier's theories and concepts have been doubted, endorsed, and criticized. Thus, 'Héritages' seeks to animate a dialogue of 'resonances' and 'dissonances' between contemporary artists, designers, and one of the pioneers of what is now considered modern architecture.
Curated by Galerie Philia (see more here), the exhibition brings together eight international artists and designers, inviting them to produce artworks around his approaches and theories. Therefore, the exhibition not only serves as a homage to his identical aesthetics but also as a creative visual response to his urbanist and architectural principles, considering also his impacts on contemporary design and visual arts.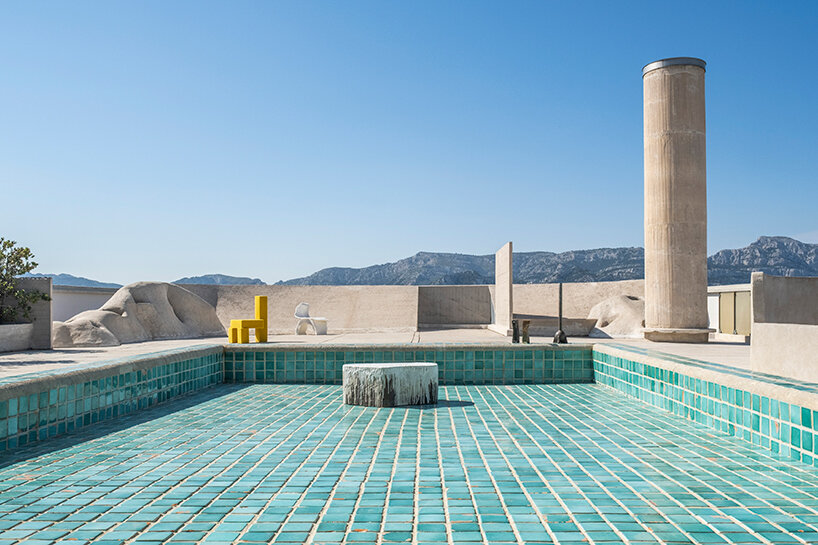 two adjacent controversial rooms
The art pieces are set in two adjacent rooms in an apartment with large bay windows, constructed regarding the Swiss-born French architect's 'Modulor' principles. The first room is organized under the theme 'resonances', and accommodates items serving as a continuation of Le Corbusier's legacy and historical heritage. The series includes a bronze candlestick by Rick Owens; an armchair by Pietro Franceschini featuring pure yet functional volumes in bold yellow; a minimalist sculptural sofa by Arno Declerq made of steel — a material often used by the brutalist architect — and a brass light by Paul Matter created by utilizing Corbusier's Modulor proportion system.
The other room is dedicated to 'dissonances'. As its name reveals, the designers were asked to create items that critically recall Le Corbusier's theories of standardization and regularity. The series includes an uneven ceramic table by Jojo Corväiá; a serrated pedestal table by Roxane Lahidji made of salt; a sculpted oak work by Jérôme Pereira questioning the balance in motion; and a pair of hammered bronze candlesticks by Niclas Wolf.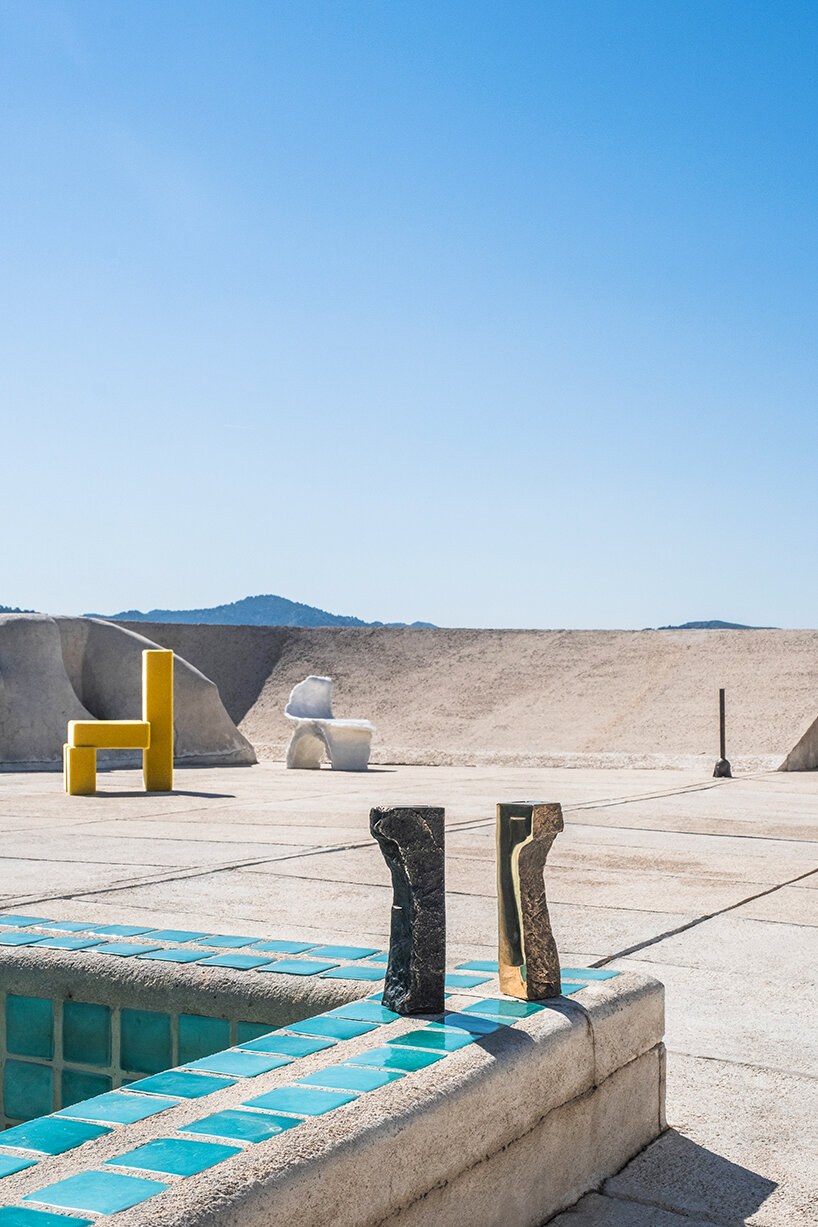 Along with this ensemble, a series of modern and contemporary artworks, by Sam Szafran, Fabrice Hyber, and Flora Temnouche are revealed within this room. Finally, three more pieces, echoing Le Corbusier's signature style, come to complete the exhibition. This art assemblage consists of artworks by Edgar Sarin, Mateo Revillo, and the original engraving 'Le Chevalier ' by Pablo Picasso made in 1948.
'Le Corbusier is considered one of the most influential historical figures in contemporary design. Either by affiliation or disaffiliation, the ensemble of works in this exhibition questions his work and his legacy, and intends to respond to his theoretical but also polemical genius', says Ygaël Attali, co-founder of Galerie Philia.