SPACE TRAVELLERS X CONCENTRICO FESTIVAL
Space Travellers has developed 'MAZE', a pair of labyrinth pavilions for two distinct locations: the vineyard Viña Lanciano in Spain, and the vineyard Quinta Do Seixo in Portugal. Awarded finalist of Concentrico Festival's open calls this year, the project highlights the contemplative experience of walking through the beautiful landscapes of the two sites.
'Walking through the vineyards is the best way to leave the city's noise and pollution behind,' notes the architecture studio.'Getting lost in the rows, feeling the intense scents of the earth and grapes, and touching the autumn-colored leaves are some of these emotions. The linear landscape of the vineyards is as dispersive as the path of a labyrinth. What are the elements that seemingly distinct identities have in common? What are the reciprocal interactions that are promoting a growing interest in the wine-landscape union?'
visuals by Umberto Aprile-Ximenes
TWO MAZE PAVILIONS IN SPAIN AND PORTUGAL
Immersed in the lush landscapes of the two vineyards in Spain and Portugal, Space Travellers' two mazes have similar identities but also differ in some ways. The first one, in Viña Lanciano, Spain, is placed rightly in the middle of the vineyard path and invites the visitors to get inside the pavilion and live an experience of losing themselves into an ethereal entity. The second one, at Quinta do Seixo, Portugal, is organized to lead the visitors through a mildly challenging journey towards a beautiful belvedere, from where they can enjoy a unique view of the spectacular landscape.
'The word "labyrinth" is connected to the verb "to wander", without excluding the meaning of making a mistake: the basic idea of the non-linear journey full of dangers that is, at the same time a symbolic and spiritual wandering,' explains Space Travellers. 'The "graphic sign" of the labyrinth could be an evolution of the spiral and the circle, well known since the beginnings of humanity which saw in them the representation of the Cosmos as the symbol of life and power. The path through the labyrinth understood as the "spiral of life", symbolizes the passage from darkness to light. The labyrinth, therefore, is above all the most common and constant ancestral symbol in the history of human creative thought.'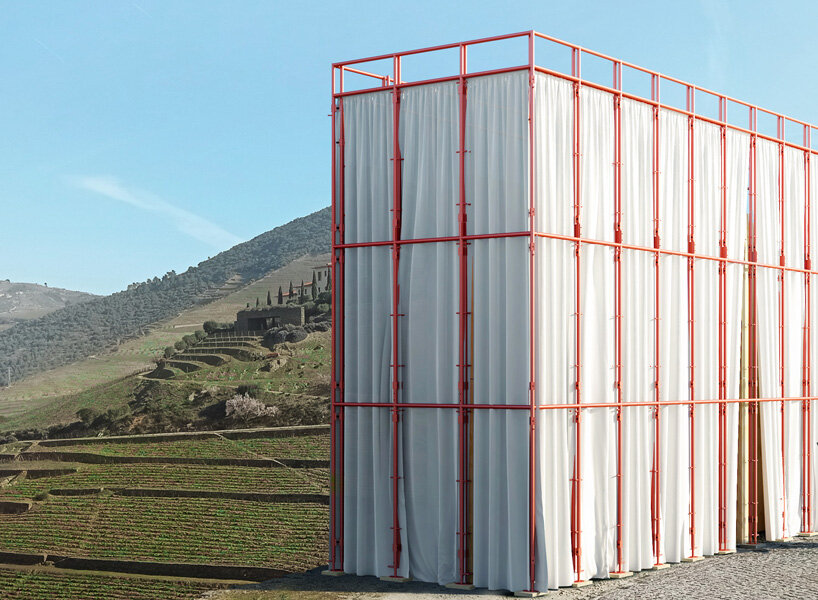 scaffolding structure painted in vivid red color
The construction of the two MAZE pavilions includes the use of humble materials, from a technological standpoint. The external grid can be constructed out of potentially rented scaffolding, painted in a vivid red color. The same tubular profiles can sustain a system of filtering tents made of natural recycled fabric. These tents may both protect the visitors from the sun and provide the installations with an ethereal mood. Finally, the interior maze consists of very thin wooden panels, provided by the competition organizers. To use them in a vertical position, the OSB boards are organized in hollow structures held together by steel joints and filled with inert materials that can be gathered on location.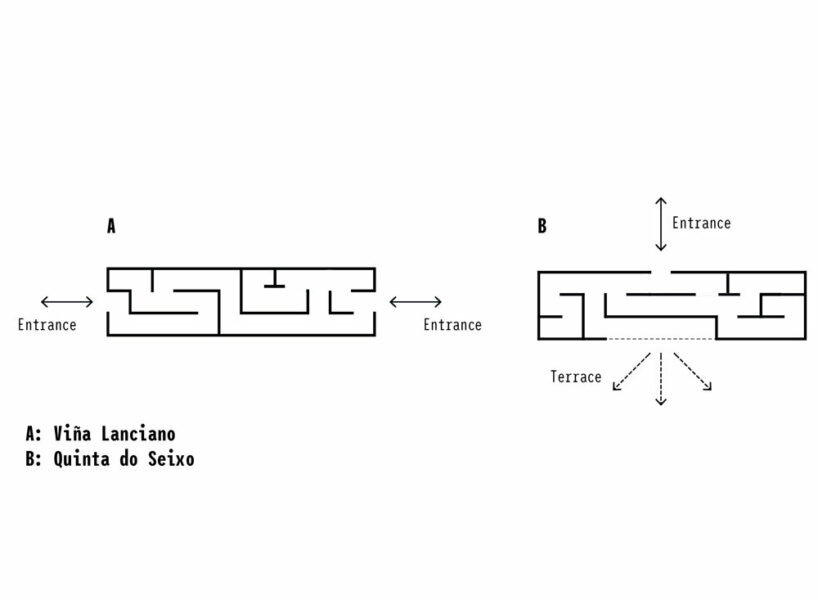 the two mazes have similar identities but slightly different configurations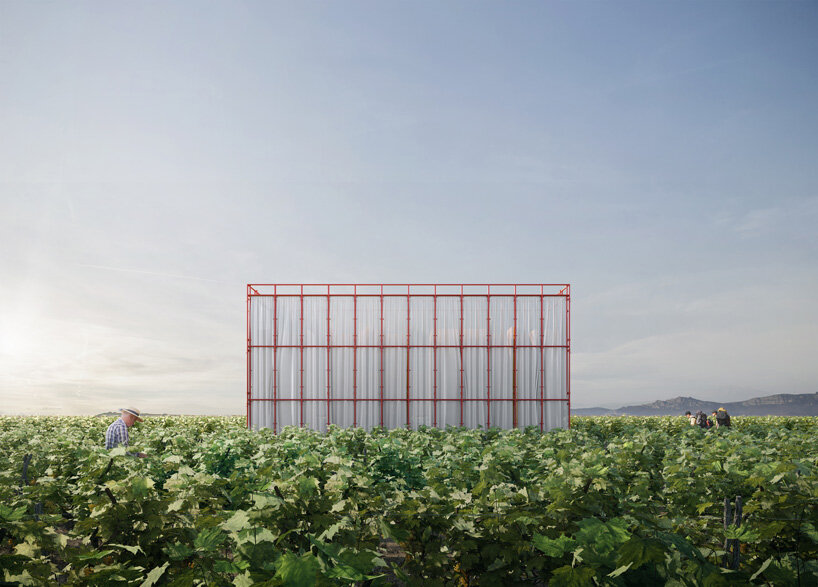 the project highlights the contemplative experience of walking through the beautiful landscape